Kære koncertgæst
Grundet de skrappe rejserestriktioner netop i denne tid med Covid-19 er vi nødt til endnu en gang at flytte koncerten med John Coghlan´s Quo. De nye datoer er fredag den 14. januar og lørdag den 15. januar 2022. Vi håber at vi til den tid kan gennemføre koncerten og at både vores publikum fra landende omkring Danmark frit kan rejse hertil for at deltage. Vi beklager ulejligheden – men det glæder os at John Coghlan´s Quo er ligeså stålsatte på at gennemføre disse koncerter som vi er. Har du allerede købt billet så gem den – den gælder nu til den nye dato dvs. en fredagsbillet gælder til fredag den 14. og en lørdagsbillet gælder til lørdag den 15. Har du behov for at aflyse/få refunderet din billet på grund af den nye dato så kontakt Ticketmaster direkte.
It is with great pride Karosserifabrikken can announce that we have been able to set up 2 concerts with John Coghlan's Quo: featuring John Coghlan – The Heartbeat of Quo
The 2 nights will bring you 2 different setlists from John Coghlan´s Quo as well as 2 different SQ tribute support acts. This is truly a treat for the dedicated Quo aficionado! A limited number of 2 day tickets will be available for the hardcore Quo fan who wants to join both concerts.
Original Quo drummer John Coghlan, with his great band, brings you a night of vintage Quo from the period he performed with Status Quo 1962 – 1981.
John Coghlan joined Francis Rossi and Alan Lancaster in their newly-formed band 'The Spectres' in 1962. The group went through a series of name changes, including Traffic Jam, before becoming Status Quo in the late 60s when Rick Parfitt also joined the line-up. In the years that followed, a string of chart-topping hits include *Pictures Of Matchstick Men * Ice In the Sun * Down The Dustpipe * In My Chair * Paper Plane * Mean Girl * Caroline * Break The Rules * Down Down * Roll Over Lay Down * Rain * Mystery Song * Wild Side Of Life * Rocking All Over The World * Again And Again * Whatever You Want * Living On An Island * What You're Proposing * For Quo fans and critics alike, this time is often regarded as Quo's "Classic" period.
Since leaving Quo, John has worked with many noted and diverse musicians, in his own Diesel Band; with Partners In Crime; and the 'Rockers' featuring Phil Lynott, Roy Wood and Chas Hodges. Other collaborations have included Noel Redding (ex-Jimi Hendrix) and Eric Bell (ex-Thin Lizzy).
In 2013 and 2014, John rejoined Francis Rossi, Rick Parfitt and Alan Lancaster for the two sell-out Status Quo Frantic Four Reunion Tours, appearing all over the UK and Europe and reigniting the excitement of the early days of Quo. During the late nineties John Coghlan's Quo was formed and through various line-ups has enjoyed regular gigs all over the UK and Europe. The current band consists of John on drums, with Mick Hughes on guitar and vocals, Rick Chase on bass and vocals, and Pete Mace on guitar and vocals completing the line-up.
John Coghlan's Quo – The prime aim is to recreate an authentic "70's Quo Sound" in keeping with John's time with Quo. For Quo fans and critics alike, this time is often regarded as Quo's "Classic" period.
Quote from 
MetalTalk.net
 critic, Mark Taylor
'John Coghlan's Quo take you on a joyous journey of his golden past in one of the most celebrated and much loved rock bands the UK has ever produced. A night of beer-raising, feelgood factor Status Quo classics'
Support: 14th Almost Quo – 15th Piledriver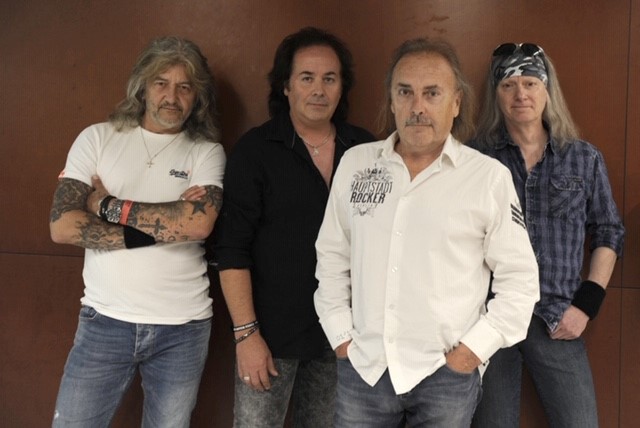 John Coghlan's Quo
Dato: 15/01/2022 Tid: 20:00
Dørene åbnes: 19.00
Sted: Karosserifabrikken
Pris forsalg: DKK 220,- + gebyr
Køb billet